Popcash – The Popunder Network as they state themselves on the website, also does what it says on the package – Popunders!

This article has been updated 2020-08-18 with a few new insights into this global popunder network!

The network is one amongst the big ones in this niche industries. It has a large number of daily impressions and is therefore ranked as one of the 300-largest websites online by the traffic insight tool Alexa.

It was started in 2012 by the two friends and colleagues Alex and Radu. Further on, the network grew rapidly and that is one of the reasons the network is highly valued by a large number of publishers and advertisers today.
When signing up for the network as a publisher you are greeted with a clear and focused dashboard.

Although, a tad bit outdated perhaps, the interface is well structured and easy to use from first glance. Please see a screenshot of the interface below.

However, the process of signing up with Popcash is very straightforward and easy and you are able to get started with monetizing your traffic right away.
"Popcash is ranked among the 300 largest websites online!"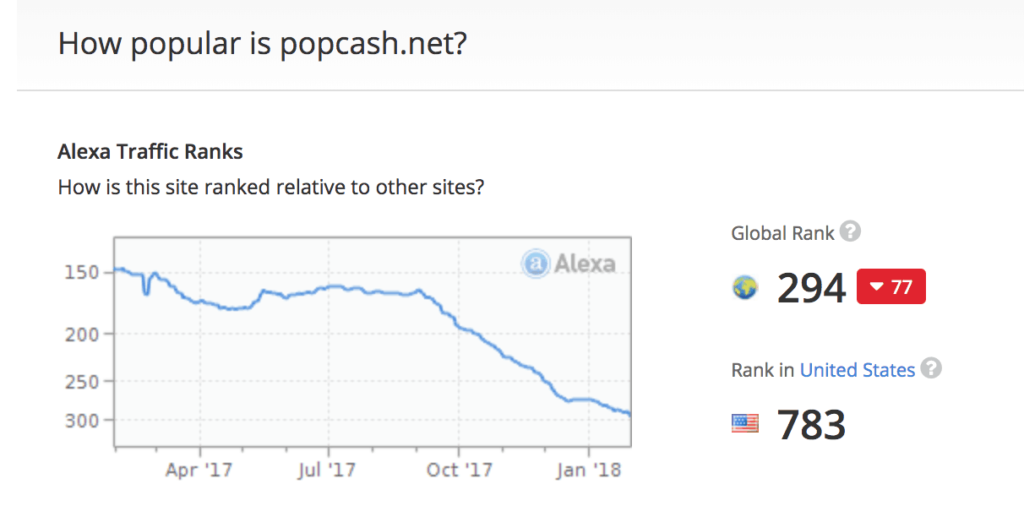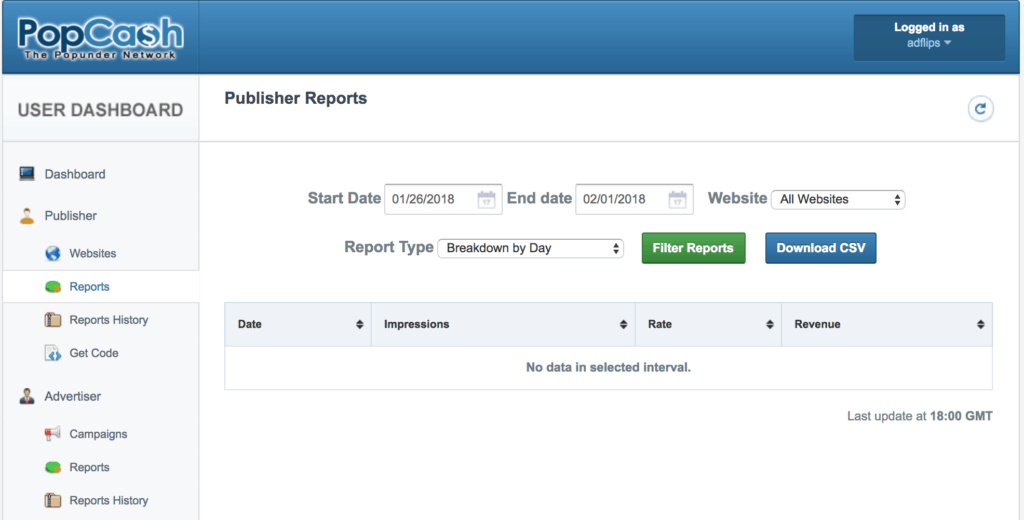 When you have added your website and has gotten it approved, your earnings will show in real time in both the front of the dashboard and also in your reports tab.

Entering the reports tab you will see the following as per the image below.

All the relevant options are there, besides the common ones. However you want to sort the report, and what you want to base it on, that's of course up to your needs.
In addition, you can there select your preferred dates and preferences and run the report. Furthermore, the reporting in the platform has the option to download the report as CSV which always comes in handy.

Besides the above, one nice feature that comes with the networks reporting system is the Report History tab.

When clicking on the tab, as a result, you will discover a feature where you can see your previous reports. Have you run a useful report in the part there's no need to set it up again.

You will find it right in the report audit history! In fact, this is a valuable feature to save you time, and that makes the network stand out from the cluttered crowd of pop networks out there.

In the section, you can also find pending reports if you would find that useful when waiting for a report to generate.
Popcash can offer good CPM rates for your traffic. Of course, as always, it all comes down to the quality of the traffic. If you have good quality traffic, you will get well paid for it.

If it converts for advertisers, you can rest assured that due to this, the prices will be good. If you have lower quality traffic, the rates can be on the lower end. This goes for all networks out there.

One of the reasons why popcash net can provide good rates is a large number of direct advertisers that they have gained good relations with over all the years they've been in business.

As many publishers are aware, if the network works with many direct advertisers, rather than reselling the traffic to other networks, they can due to that specific fact, generally produce high CPM's.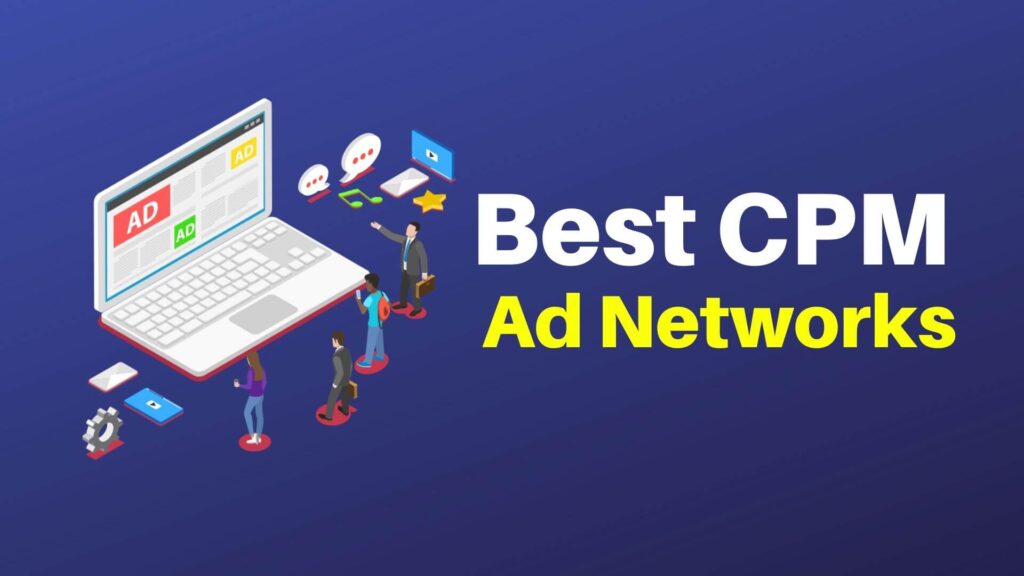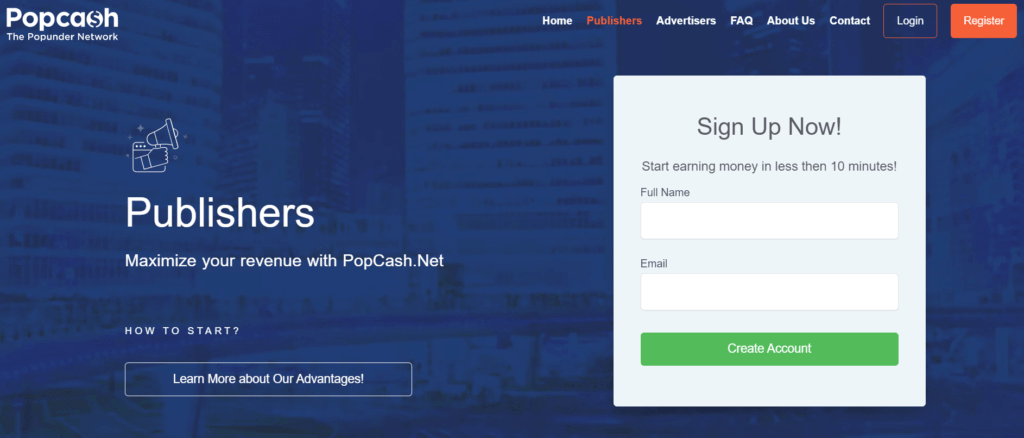 Site Approval and Popcash Login
The Popcash Network approves a wide range of publishers to their network.

It does not matter if you have an adult or non-adult website for example.

Low or high amount of visitors is not an issue to become a publisher in their network. As always, the site needs to be of quality and have real visitors. Although, big or small doesn't matter!

Once approved, you are able to login with popcash for the first time! Nothing unusual with the login process, just as you would expect.
"Popcash was founded in 2012 by friends and colleagues Alex and Radu and grew rapidly in the coming months and years"
Active publisher with Popcash
Once you are up and running as a publisher with the network you want to learn when and how you can get paid.

One great thing about this popunder network is that they offer a wide range of payment options. There's pretty much none of the major payment options that they can't offer.

Options including Payza, Paypal, Webmoney, Bank etc. (See full description further down).

Another great thing with Popcash is the fact that they offer a 100% fill rate. This means that they will pay you for every impression sent their way.

Some of the advantages with Popcash, apart from the above mentioned, are low minimum payouts, live stats reporting system, referral program and dedicated support.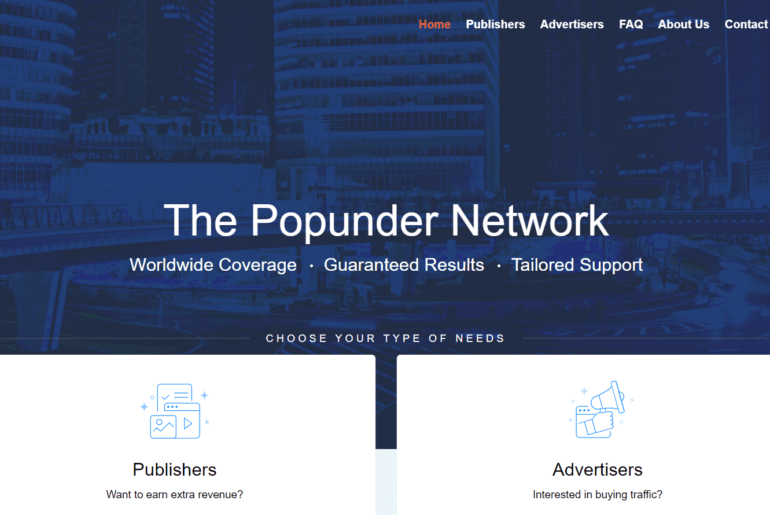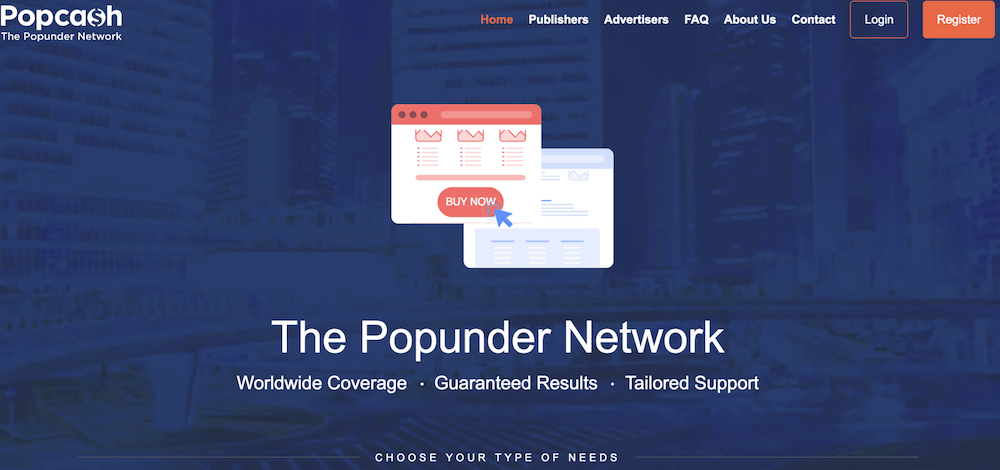 Payment options with Popcash
As we mentioned before in this review, Popcash offers several payment methods on the site. In fact, it's as many as 8! We have listed all the available payment options below:
This makes for a great experience as publishers have a wide variety of payment option themselves!
Once logged in to the platform you are able get help in real time with their live chat option. There will be a support person ready to assist you should you have any questions!
Popcash is overall a very good Pop-Under Network and with their experience in the field, they can provide good rates and good support for publishers.

If you are looking for a network with good support, many different payment options and decent CPM rates, give Popcash a try for your website's traffic!
Thinking of signing up with Popcash net to give them a go?
Minimum Deposits: 5USD (except Payoneer $50 and Wire $1,000)

Payment options: Payza, Paxum, PayPal, WebMoney, Wire transfer, Skrill, Bitcoin, Perfect Money, OKPay, Payoneer.
Ad Formats: Popunder
Bidding: CPM
Verticals: Mainstream and Adult traffic
AM for publishers and advertisers: Yes

Response speed: Fast

Contact details: contact@popcash.net, Skype – popcash.net